iLcamone is a special tomato
iLcamone, quello vero (the authentic) is a prized tomato grown only in the saline soils of Sicily and Sardinia. We at Moncada OP are one of the very few companies in Italy authorized to cultivated it.
iLcamone has a truly unique taste, characterized by a perfect balance between fresh, sweet and savory notes, which is released on the palate by biting into its firm and crunchy pulp. This all-Italian excellence is ideal for salads and fresh dishes, but also for preparations that want to play with texture. It is excellent raw, seasoned with salt and extra virgin olive oil, and goes well with meat and fish main courses. It is also a precious ingredient for a healthy and balanced diet as it is rich in vitamin C, carotenoids and potassium.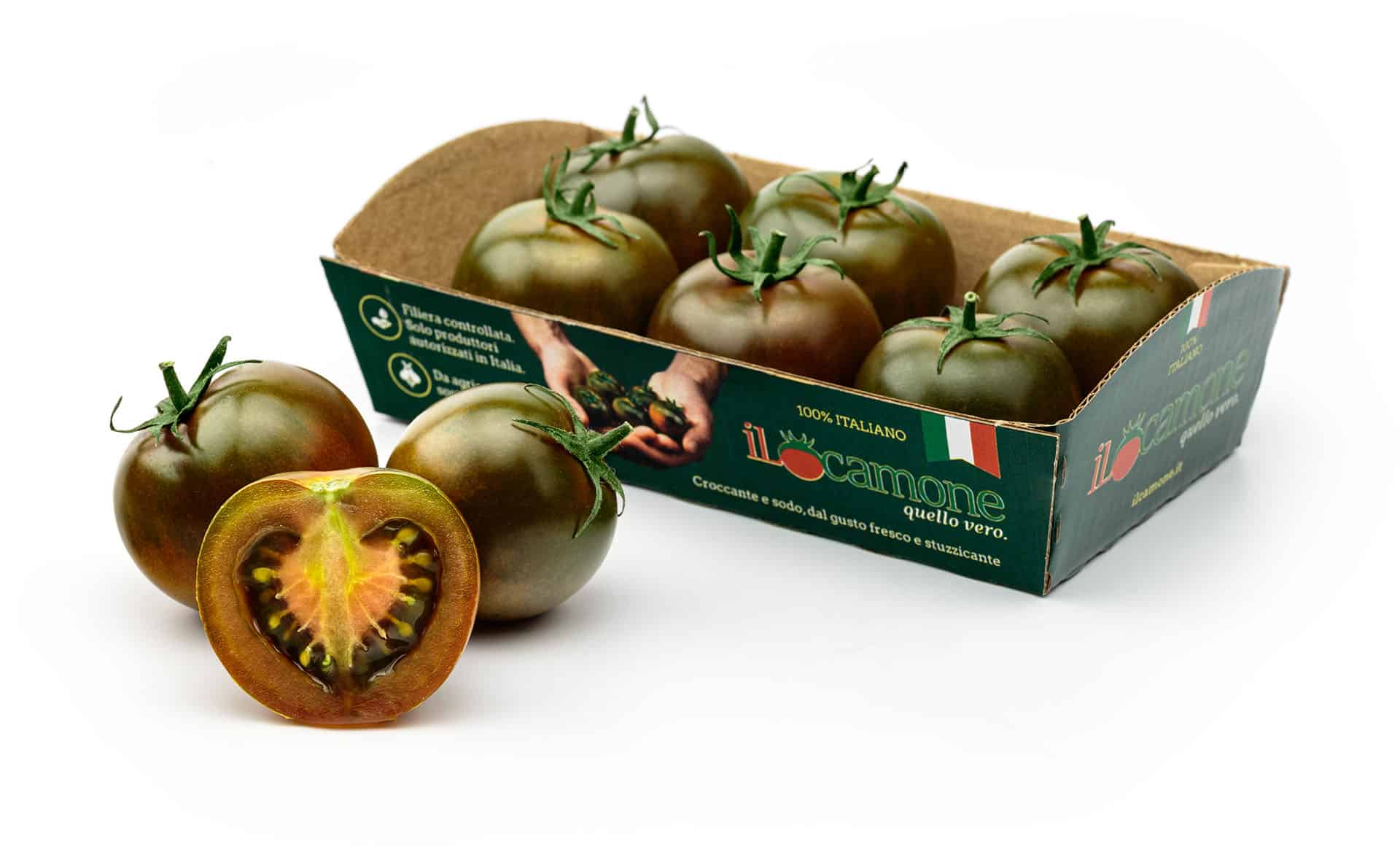 How to recognize iLcamone, quello vero
iLcamone tomato is easily distinguished by the intense green color in the upper part of the fruit and green-orange in the lower one, by the fleshy, tasty pulp and by the characteristic taste. To recognize it among imitations, look for the brand.
To recognize iLcamone, quello vero, and distinguish it from other apparently similar tomato varieties, you need to rely on the iLcamone registered trademark, clearly visible on the crates and packages. Only the presence of the iLcamone brand, guarantees that the tomato is authentic, produced exclusively by selected farms, qualitatively guaranteed and totally traceable.
Moncada OP and the "iLcamone" project
Gruppo Moncada was the pioneer of the iLcamone project, always at the forefront in the development of its prestigious and ambitious production line. Today it is one of the very few companies authorized to cultivate and market this particular variety of tomato with intense green streaks and fleshy, tasty pulp. Since 2017 Moncada has been committed to maintaining the high quality standards required for this type of cultivation limited to the saline soils of Sicily and Sardinia.
Over time Moncada has worked with passion on perfecting the organoleptic qualities of the product which is rigorously harvested by hand, once the perfect level of ripeness has been reached.